There is joy in God's presence. The Bible says that the joy of the Lord is your strength. It tells us that this joy can be lost when one sins.
Then you need to pray for a restoration of the joy of God's salvation. Thus when God's anger has turned away from you, with joy you will draw water from the wells of salvation.
The message of the angel at the time of Jesus' birth was this: "I bring you good news of great joy that will be for all the people." So when Jesus the Savior is born in human hearts there is joy.
That is why there is rejoicing in heaven in the presence of the angels of God when one sinner repents. So when salvation came to households the members there were also filled with joy.
As you look at Jesus you find Him full of joy through the Holy Spirit. Joy indeed is the fruit of the Spirit.
And joy comes through prayer too. The promise is that God will give people joy in His house of prayer. That is why Jesus asked His disciples to ask in His name so that they will receive and their joy will be complete.
Again, joy cannot be taken away by difficulties. That is why the disciples were filled with joy even when they were persecuted. The Bible also encourages us by saying that weeping may remain for a night, but rejoicing comes in the morning.
A true servant of God is likened to the friend who attends the bridegroom. He waits and listens for Him, and is full of joy when He hears the bridegroom's voice. His joy then becomes complete as people look away from him to the bridegroom Himself.
Finally, God has planned to crown the heads of His children with everlasting joy!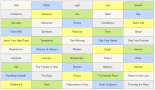 Sponsored Links for Christmas