This section helps you to understand some of the important truths in the Bible that can help you anchored to God in changing times.
What Does the Bible Say About Itself?
What Does the Bible Mean to You?
The Feast!
Practical Tips for Reading the Bible
Five Lane Bible Reading Program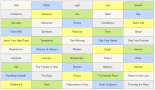 The Throne of the Lord
The Lordship of Jesus Christ
Restore to God the Honor Due His Name
The Biblical Challenge to Atheists
Struggling with Your Faith in God? Get to Know the Reality!
The Blood of Jesus Christ: What does it mean to you today?
John's Gospel Easy Notes Entire Series List
What Does the Name of Jesus Mean to You?
7 Gestures of God's Grace Towards You!
Lessons of God's Will from the Life of Jesus
Prayer Life of Jesus Christ
The Blessed Hope–The Second Coming of Jesus Christ
Meet the Holy Spirit
The Holy Spirit @ Christmas
False Prophets–What the Bible Says About Them!
Slaying in the Spirit [What the Bible Says About It]
Simple Success Tips from the Life of Joshua
Beginnings–Lessons from the Beginning of Jesus' Ministry
They Are More than Just Names!
Biblical Financial Guidelines
A Sin Checklist!
Psalm 103 Easy Notes
Psalms 51 and 32 Easy Notes
Psalm 34 Easy Notes
Psalm 23 Easy Notes
Psalm 22 Easy Notes
Psalm 8 Easy Notes
Sponsored Links for Christmas