The great hope of a Christian is to bear the likeness of Jesus. This will become reality fully in the days to come. At the moment we "are being transformed into his likeness with ever-increasing glory!"
And Paul writing to the Corinthians about the resurrection affirmed: "And just as we have borne the likeness of the earthly man, so shall we bear the likeness of the man from heaven." So it is a certain and blessed reality.
"Until Christ is formed in you." This was Paul's overriding concern about the early Christians. Another expression of Paul about this mystery is like this: "Christ in you, the hope of glory."
John confirmed these thoughts in his epistle when he wrote that what we children of God will be has not yet been made known: "But we know that when he appears, we shall be like him, for we shall see him as he is." He also added: "Everyone who has this hope in him purifies himself, just as he is pure."
We may also read along with this Jesus' statement: "Blessed are the pure in heart, for they will see God." And when they see Him, they will also be like Him. What a blessed reality!
"Now we see but a poor reflection as in a mirror; then we shall see face to face. Now I know in part; then I shall know fully, even as I am fully known."
God had said in the beginning, "Let us make man in our image, in our likeness." That likeness was disturbed through sin. The Bible says, "For all have sinned and fall short of the glory of God." But through Jesus, God is bringing many sons to glory. So Jesus was made like men so that men might be made like Him.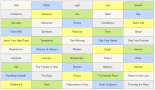 Sponsored Links for Christmas