The Bible deals honestly with rejection. It happens to those who trust God fully. This is because the righteous life of godly men and women is in itself a judgment on the sinful lives of ungodly people. Therefore others hate and reject godly people.
Another reason is that godly people live a life with a purpose. While others follow the policy of eat, drink and be merry. These two attitudes are in conflict with each other. Therefore others reject godly people. The writer to the Hebrews referring to this rejection and persecution said: "the world was not worthy of them."
Joseph, Moses, David and Prophet Jeremiah are all classic examples of people who faced rejection from their own people. Their zeal for God was one important reason why they were rejected by others. Jesus encouraged those who are rejected in such fashion with these words: "Blessed are you when men hate you, when they exclude you and insult you and reject your name as evil, because of the Son of Man."
Jesus Himself is a supreme example of rejection. Peter says He was rejected by men but chosen by God! John says that though Jesus was in the world He had made, it did not recognize Him. Also Jesus came to His own, but they did not receive Him.
Again, Jesus pointed out the fact that the Son of Man would be rejected by that generation especially by the elders, chief priests and teachers of the law. This is most painful because they were the ones who had the greatest knowledge to know who Jesus is.
But their rejection did not destroy God's purpose. Jesus quoted Psalm 118 and said about Himself that "The stone the builders rejected has become the capstone; the Lord has done this and it is marvelous in our eyes."
There is great encouragement for you here. When people reject you because you trust in Jesus, it will turn out for God's glory. In fact, your rejection by others is proof that God is working His glorious plan through you.
Related Post
He Walks in When Everyone Else Has Rejected You and Walked Out on You!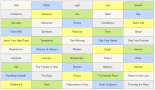 Sponsored Links for Christmas