Time on earth is your God-given opportunity to prepare for eternity. The time-span of life on earth is very brief indeed. Job said that his days were swifter than a weaver's shuttle.
Moses said that our length of days is seventy or eighty years; their span is but trouble and sorrow and they quickly pass and we fly away. So he prayed God to teach us to number our days aright so as to gain a heart of wisdom.
So also Solomon said: "Remember your Creator in the days of your youth, before the days of trouble come."
David said, "My times are in your hands." He knew that it was God who held his life and his enemies were not in control of it. Solomon said that God has made everything beautiful in its time. So time is of the earth; but it has the beginnings of eternity contained in it.
Jesus warned about succeeding to interpret the weather but failing to interpret the signs of the times! Yes, He will come like a thief at an hour no one expects Him. That time is known only to the Father.
Paul asks of you to make the most of every opportunity, because the days are evil. Therefore preach the Word; be prepared in season and out of season to do it. The time of the end is near. Understand the present time.
Wake up from your slumber. Our salvation is near. The night is nearly over; the day is almost here. So put aside the deeds of darkness and put on the armor of light.
God's greatest proclamation about time is "Now!" Now is the time of God's favor, now is the time of God's salvation. Therefore do not wait for another time. Your time to meet with God is now.
The Bible also talks about a time Satan is hurled down to the earth. Then a loud voice in heaven was heard saying: "Now have come the salvation and the power and the kingdom of our God, and the authority of his Christ." But for this reason the devil is filled with fury knowing that his time is short!
When believers get tired of waiting for God's promises to come to pass, they should think about what God said to Habakkuk: "For the revelation awaits an appointed time; it speaks of the end and will not prove false. Though it linger, wait for it; it will certainly come and will not delay."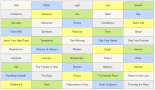 Sponsored Links for Christmas