Victory rests with the Lord. He holds victory in store for the upright. Therefore shouts of joy and victory resound in the tents of the righteous.
The Lord is a warrior. He goes with His servants, fights their battles and gives them victory. The horse and its rider of enemy forces, He hurls into the sea. He will not rest till He leads justice to victory.
And by the resurrection of Jesus from the dead, death has been swallowed up in victory. And that victory is given to us in Jesus Christ.
The Bible talks about praise bringing victory to God's people in battles. It also talks about untiring prayer turning the tide in battles in favor of God's people, giving them victory.
On a spiritual plane the Bible clearly tells us that believers overcame their accuser (Satan) by the blood of the Lamb and by the word of their testimony; for they did not love their lives so much so as to shrink from death.
But moments of great victory should be times of greater vigil because your enemy the devil prowls around like a roaring lion seeking whom he may devour. Many servants of God fall because of unguarded moments after great victories; and surprisingly these falls are caused by little things.
God often uses foolish things to bring victory to his people. A staff in the hand of Moses, a donkey's jawbone in the hand of Samson, the sling and the stone in the hand of David are all examples of such great victories.
Finally, everyone born of God overcomes the world. It is of great encouragement to note that each of the seven messages Jesus gives to the seven Churches in Revelation ends with a specific promise to the one who overcomes. Will you therefore endure hardship like a good soldier of Jesus Christ and qualify yourself for receiving a victor's crown?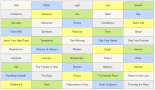 Sponsored Links for Christmas