It is written in the Book of Proverbs: "He who wins souls is wise." It is the privilege, responsibility and divine compulsion of a Christian. That is why Paul said: "Woe to me if I do not preach the gospel!" For God is pleased through the foolishness of what is preached—the message of the cross–to save those who believe.
Jesus came to win souls. He Himself said: "For the Son of Man came to seek and to save what was lost." He made it clear that the value of a soul is priceless when He said: "What good will it be for a man if he gains the whole world, yet forfeits his soul?" That is why God demonstrated His own love for us by sending Christ to die for us while we were still sinners!
This is the good news of great joy for all the people. Not just for you or your family. But someone should tell others: "Believe in the Lord Jesus, and you will be saved–you and your household." But Paul asked: "And how can they hear without someone preaching to them?"
For that you need to see God's glory like Isaiah did and hear the question: "Whom shall I send?" If you are hearing that question today by reading this, say prayerfully: "Here am I. Send me!"
Yes, God has called you to be "Fishers of men!" The Book of Daniel says that at the time of the end those who sleep in the dust will awake. And then those who led many to righteousness will shine like the stars for ever and ever!
The Book of Ezekiel tells us that God takes no pleasure in the death of anyone. Instead He wants everyone to repent and live. But this message has to be taken to people.
Like the four lepers in the Book of Kings who said: "We're not doing right. This is a day of good news and we are keeping it to ourselves. If we wait until daylight, punishment will overtake us. Let's go at once and report . . . ." Or do you want to be like Jonah? A reluctant messenger who does not want God to show compassion to people about whom He is concerned about.
What about Jesus' final words: "Go and make disciples of all nations."? Like Paul can you say: "I am not ashamed of the gospel." Again, he said, he was obligated to all. Therefore he was so eager to preach the gospel. You will share the gospel with others when you value the cross of Jesus Christ.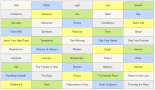 Sponsored Links for Christmas