Is there a connection between obedience and God's provision? The answer is yes. God provided a ram as burnt offering in place of Abraham's son Isaac when he obeyed God.
Ultimately that provision pointed to Jesus the Lamb of God provided as sacrifice for our sins on the cross of Calvary.
God provided a means of salvation to the Israelites by working in and through the life of Joseph. His being sold, his being in prison and his rising to governor's post in Egypt were all part of God's provision to His children.
Joseph was a channel of God's provision though he might not have realized it during his times of crisis. Likewise God provided the Israelites a deliverer in Moses and in David the king who was a man after God's own heart.
The providing of manna for forty years in the desert and other provisions accompanying it like the people miraculously given water are all classic examples of God's provision.
Elijah fed by ravens with bread and meat, and water from the brook; finally taken care of by a widow in another land are all examples of ways in which God provides.
Even a rebellious prophet like Jonah knew God's provision in the form of a great fish and also a vine and a worm and a scorching east wind. God taught him some unforgettable lessons through them.
Jesus said that your heavenly Father knows what you need even before you ask for it. He asked you to seek God's kingdom first and not your needs. Then God will provide for you. So you need not worry about what you will eat, drink or wear.
Again, Paul wrote to the Philippians thanking them for their financial aid saying that they were pleasing to God. Having said that he wrote to them: "And my God will meet all your needs according to his glorious riches in Christ Jesus." Yes, He is Jehovah-Jireh, the God who provides!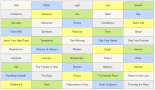 Sponsored Links for Christmas